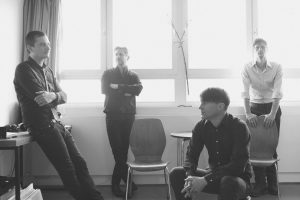 Concert

KREIDLER live!

Saturday, March 29th, 2014 – 23:00
Where
What
The Master Precision of Electronic Music Pop in Bucharest @ Control
KREIDLER – ABC tour 2014! @ Bucharest Saturday, March 29, 23:00
Early in 1994 KREIDLER was founded by Thomas Klein, Andreas Reihse, Detlef Weinrich and Stefan Schneider who was to leave KREIDLER in 1998 in order to form To Rococo Rot; his place on bass-guitar was taken by Alexander Paulick (of Coloma and Narrow Bridges) until 2001, and again from 2008 on.
Among the artists to have been remixed by KREIDLER are Einstürzende Neubauten, Depeche Mode, Eurythmics or Faust. Their musical collaborations include Klaus Dinger (NEU!, la Düsseldorf) , Add (N) to X , Pyrolator, Young Gods , Momus , Leo Garcia, Theo Altenberg or Chicks on Speed .
2014 marks twenty years of KREIDLER. The band has outgrown adolescence, but remains juvenile, reckless, and impetuous.
They recorded their new album ABC in Tbilisi, Georgia.
As always with KREIDLER, ABC is about the exploration of freedoms within a previously determined framework. It is a formulation of convergences, of possibilities within a procedural movement, based on a notion of democracy, with socialism in mind, where one understands that restraint is not merely a strategy of a conceptually inclined band, but that it serves to strengthen the validity, precision and majestic authority of expression. (V. Luxemburgo)
Do not miss this "declaration of war on society" if you are in Bucharest!