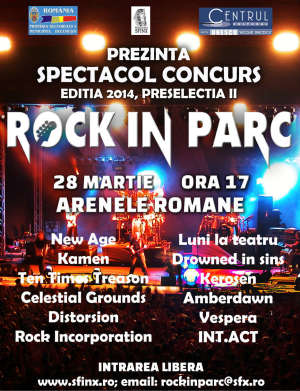 Concert

Rock in Park #2

Friday, March 28th, 2014 – 17:00
Where
What
Rock in Park Bucharest second edition @ Arenele Romane, Carol Park, 17: 00
This Friday, March 28th, on the Arenele Romane stage, 12 rock bands will compete in the preselecting section of the second edition of the International Rock In Park Festival which will take place in Bucharest in June 2014.
12 bands, more than six hours of live music and a party to remember in Bucharest!
Line-up: New Age// Kamen// Ten Times Treason// Celestial Gronds// Distorsion// Rock Incorporation// Amberdawn// Kerosen// Drowned in Sins// Luni la Teatru// Vespera// INT.ACT
Free entrance; be there at 17:00.