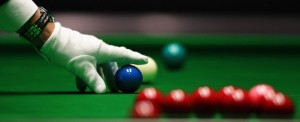 Festival

European Snooker Championship in Bucharest

Tuesday, March 18th, 2014 – 10:00
Where
CARO Hotel
164A Barbu Vacarescu St., Bucharest
What
European Snooker Championship @ Caro Hotel
The event is hosted during 18th – 29th of March, at Caro Hotel in Bucharest, and will bring the most talented European snooker players to entertain you with their skills.
According to the official data, more than 250 players will participate, from which 47 are Romanian players.
Be a part of a demonstration of precision and elegance that will definitely impress you. Free entrance!
Junior Championship begins Tuesday, March 18. The opening ceremony is scheduled at 10:00 and the first parties, at 12:00. The semifinals and final match will bring face to face the best players, on Sunday, March 23rd.
Also on March 23rd from 20:00, the European Seniors Championship teams, opening ceremony is scheduled. This championship will be held on the categories male, female and masters, starting Monday, March 24th (10:00) and the semifinals and finals will take place Saturday, March 29th.
Source: http://carohotel.ro