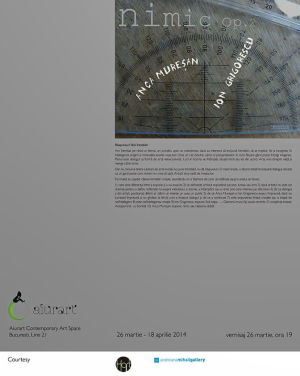 Art Show

NOTHING OP.2

Wednesday, March 26th, 2014 – 19:00
Where
What
Anca Mureșan and Ion Grigorescu – nothing op.2 – exhibition
March 26th to April 18th, 2014 | Aiurart Contemporary Art Space | 21 Lirei, Bucharest |
Opening: Wednesday, March 26th, 7pm.
Answers without questions
I've asked, in turn, a man of letters, a journalist and then an art collector if they had any interest in asking/exhibiting questions or in getting involved, even if incognito, in trying to comprehend the origins and the motivation of this display. This is an open topic, a field of preliminaries where each and every thought may play its part in completing the full image.
The intention here is to consider the dialogue as a non-exclusivist art form. Things are just happening, states of affairs are coming in and out of agreement. Life gives birth to art and sends it out into the world. Yet not one of the art lovers that received this invitation dares either ask questions or give answers. There is a total muteness, an utter silence surrounding the dialogue which is being refused as if this were a wall, an insurmountable obstacle which no one wants to tackle. Artists should very well mind their own business.
Hence the reason why I feel the need to break the ice and face the scornful gaze of those who are far more self-aware than I happen to be:
1) Which is the (particular) difference between exhibiting and non-exhibiting?
2) What exactly does the artist define when exhibiting a work of art: himself, the world around him, or art as such?
3) If there is no call for the artist to define, how could somebody else be interested in his/her personal reflections on the individual, on history, on a particular event or even on nothing?
4) Why would a dialogue between two artists that are poles apart in their thinking be raising any (public) interest whatsoever?
5) Why would Anca Mureșan and Ion Grigorescu exhibit concurrently if they don't work together or have similar ways of approaching (art)?
6) How did the dialogue start and why did it carry on?
7) Does exhibiting represent the end of the creative process, or is it just a stage in [mis]understanding?
8) Can the [mis]understanding (actually) be creation?
9) What does Ion Grigorescu exhibit? Ion Grigorescu exhibits Under the feet…, The working class look for its petitions, The wake of consciousness, Self-portrait with cap.
10)What does Anca Mureșan exhibit? Anca Mureșan exhibits nothing or the double root.
Anca Mureșan and Ion Grigorescu, facing one another, on either side of the unfolding matters, begin a dialogue: the year is 2013.
Consensus about nothing.
Their outlooks crisscross fractiously, taking turns, as balance and sword. Each of them has an experience to manage and limits to strengthen.
What brings them together is nothingness vs. forgetfulness as history is about to enter into consciousness.
Aiurart Contemporary Art Space | 21 Lirei, Bucharest | March 26th to April 18th, 2014 |
Courtesy H'Art Gallery & Andreiana Mihail Gallery