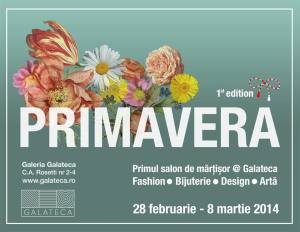 Fair

Primavera

Friday, February 28th, 2014 – 00:00 – fashion design and art fair
Where
What
March starts with Primavera, the first edition of the Spring Saloon @ Galateca, bringing together fashion design, designer jewelry and art at convenient prices, between February 28th and March 8th 2014.
If you are interested in the newest spring-summer collections of the most talented Romanian fashion designers, you are welcomed to discover the young creators and their beautiful clothes: Murmur, 109, Le petit indigent, Adelina Ivan, Claudia Castrase, Sandra Galan, Cristian Samfira, Atelier Atu, Mihaela Crețescu, Aerwear, Rad Playground and Florentina Giol.
Wear them with wonderful jewelry designed by Expression (by Alexandra Ungurelu), Lady Magpie, Carla Szabo, Fashion Machine, Raluca Buzura, Moogu, Noha Nicolescu, Roua de argint.
Artworks inspired by Spring by Aitch, Loreta Isac, Alice, Cristiana Radu, Cris Barsony, Adriana Mihaela Gheorghe, Georgiana Chițac, Amalia Dulhan and Iulia Costache
Floral creations signed by Iris, Agatha Blanck and Andreea Băniță