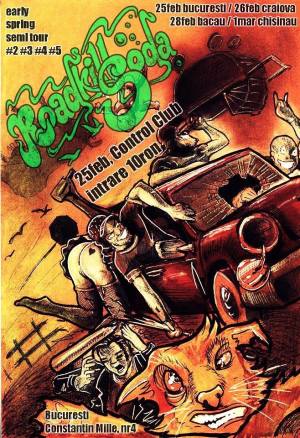 Concert

RoadkillSoda live

Tuesday, February 25th, 2014 – 21:00 – rock concert
Where
How much
10 LEI
What
RoadkillSoda live @ Control Bucharest
Afterparty w. Brutus! - 50% bar discount after 22.00h

RoadkillSoda (Stoner rock / metal band, Ro):

- Sebastian Stancu (Spiritual Ravishment) – vox;
- Mihnea Ferezan (Tep Zepi, M-51, The Fuzzenties) – gtrs;
- Victor "Vava" Ferezan (Tep Zepi, The Fuzzenties) – bass;
- Alex "Para" Ghita (Mediocracy, Traum, Environments) – drums.
More
RoadkillSoda is the reflection of the 70s American hawk, of the dusty Dodge, ragged T-shirts, tattoos, beards, booze, naked chicks and good vibes.

The group started off as a jam session between Mihnea's guitar and Para's drums in the winter of 2010-2011, in a cold, dimly-lit room filled with smoke and music blasting through the walls.

And so, the stoner, sludge, psychedelic and rock'n'roll sounds fusion would become RoadkillSoda, a fresh, intense and unconventional project. Vava, Mihnea's brother form the same mother, promptly took the, often underestimated, role of the bass player, adding a dirty bass sound that does not go unnoticed.

As spontaneous as the entire project, the debut EP "A Fucked Up Trip Gone Bad" pops up, basically live recording from the rehearsal room and was released in 2011, via Asiluum label.

In 2012, Sebi joins Mihnea, Para and Vava in their journey. The band consequently assumes, without compromises, its ideal form and color – a metamorphosis fuelled by the sound, atmosphere and by the people on stage and in front of it.

In less than a year, the band wrote, recorded and produced the first official album. "Oven Sun" embodies the experiences of a man who wakes up in the middle of nowhere, bound to wonder and to take in both the good and the bad. From mirages and oasis to the burning sun and the endless desert, the album envisages RoadkillSoda's metaphor of life. The "happy-end" is depicted through sorrow, despair and bleak scenarios carried out with a mask displaying a caddish grin, an attitude that fittingly sums up "Oven Sun" by one line – "F**k'em with a smile".