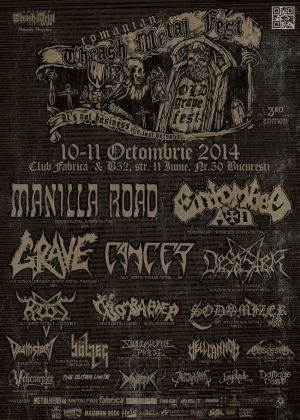 Festival

Romanian Thrash Metal Fest

Friday, October 10th, 2014 – 16:00 – Old Grave Fest 2014
Where
How much
155 LEI
What
Romanian Thrash Metal Club has the pleasure of announcing three new bands to take part at Old Grave Fest (Romanian Thrash Metal Fest 3rd edition), which will take place on the 10th-11th of October 2014, at Club Fabrica, 50 "11 Iunie" St., Bucharest.
Three of the most interesting young bands of the extreme underground – Bölzer from Switzerland, Obsessör from Germany and Extirpation from Italy – will join a line-up that for the moment looks like this:
Grave (Sweden)
Desaster (Germany)
Sodomizer (Brasil)
Bölzer (Switzerland)
Obsessör (Germany)
Hellcannon (USA)
Slaughtered Priest (Greece)
Necrochakal (Greece)
Extirpation (Italy)
Bölzer, according to the band, means "a powerful force or blow or strike that has no regard for the consequences or the repercussions. And in that sense it's not directed either, it's just a chaotic strike of energy, a force of chaos, and a force of life and death and anything" Having formed in 2008, initial aspirations as a power trio dissipated and a stalwart style based around one guitar, drums and vocals was established. In 2012 a 3-track demo cassette Roman Acupuncture was released by the band themselves. Reception towards their debut performances and demo proved positive and an alliance with Iron Bonehead Productions was formed, closely followed by an official repressing of the demo cassette and the subsequent release of their Aura MLP early 2013. Bölzer's unique form of death metal continues to evolve, deriving strong atmospheric inspiration from the dark ravines of black metal and doom, with an end result unique in today's metal world.
In a country that gave Infernal Overkill, among others, the appearance of a band like Obsessör is not at all an accident. After forming in 2009, the band has been very active in the studio, with two EPs, splits with Storming Steels and Hellhunt and a full-length album, the excellent Blitzkrieg Battalion which appeared in 2011. The mention of Destruction's first album is not accidental, because the mid 80′s Teutonic (blackened) thrash is landscape that Obsessör undoubtedly belong to. We have the chance test this again in spring, at the launch of the new album, Assassins of the Pentagram, and in October at Old Grave Fest!
Situated in the same black-thrash area, the Italians from Extirpation offer a slightly different approach to this hybrid. Although the Teutonic influences are not to be neglected here, they are seasoned by frantic and seemingly chaotic moments reminding one of Voivod, or passages that bring to mind Celtic Frost, all of these making the full length debut, Reverse The Reality (2013) an album that shows that the desire to experiment need not necessarily contradict the respect for traditional forms. After Violentor in 2012 and Sofisticator in 2013, the Italian scene proves again that it has much to offer, and this will be obvious on the stage at Old Grave Fest 2014!
More TBA!
And if you are looking for a nice, cheap, friendly and near the festival venue, place to stay, Doors Hostel is the perfect choice.
Two days of extreme and traditional metal 155 lei.
One day ticket is 90 RON.
Tickets can be purchased at biletoo point of Unirea Shopping Center Bucharest and the Flanco network, Adevarul bookstores and other partner stores (see list on http://biletoo.ro/retea.php).
Old Grave Fest – Romanian Thrash Metal Fest 3rd edition is a Romanian Thrash Metal Club event, supported entirely by the club members.
More
Friday, October 10, Festival Schedule:
Fabrica Stage/ OPEN DOORS 16.00
DAMAGE CASE 18:00 – 18:25
THE OUTER LIMITS 19:00 – 19:30
SODOMIZER 20:10 – 20:50
INFEST 21:40 – 22:20
CANCER 22:35 – 23:25
MANILLA ROAD 23:45 – 01:00
B52 Stage/ OPEN DOORS 16:00
VEHEMENTER 18:30 – 18:55
HELLCANNON 19:35 – 20:05
BOLZER 20:55 – 21:35
Saturday, October 11, Festival Schedule:
B52 Stage/OPEN DOORS 16.00
IMPLODE 16:30 – 17:00
EXTIRPATION 17:40 – 18: 10
SLAUGHTERED PRIEST 18:50 – 19:20
ROOT 20:00 – 20:45
Fabrica Stage/ OPEN DOORS 16.00
NECROCHACKAL 17:05 – 17:35
DEATHSTORM 18:15 – 18:45
OBSESSOR 19:25 – 19:55
DESASTER 20:55 – 21:40
GRAVE 22:05 – 22:50
ENTOMBED A.D. 23:20 – 00:50