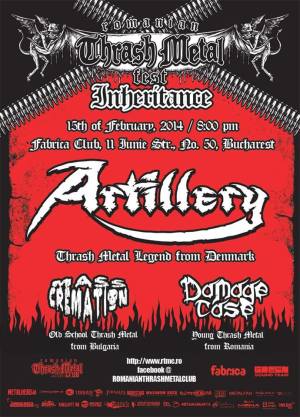 Concert

Artillery live!

Saturday, February 15th, 2014 – 20:00 – Thrash Metal Legend from Denmark
Where
How much
40 LEI
What
Under the label Romanian Thrash Metal Fest – Inheritance, RTMC is pleased to announce the reschedule of the Artillery gig, which should have taken place at the RTMFest 2013, to the February 15th 2014, starting 20:00, at Club Fabrica.
Denmark's Artillery is easily appointed one of Europe's earliest exponents of thrash metal, and the band's contribution to the bourgeoning genre is difficult to ignore.
As we have already informed, RTMFest 2013 ticket holders will be admitted FREE of charge to the show if they present the RTMFest ticket at the entrance, even if it was used for access to RTMFest 2013.
Because every Romanian Thrash Metal Club event involves promoting new bands from Romania and abroad, it's our pleasure to introduce Damage Case (Thrash metal – Romania) and Mass Cremation (Thrash metal – Bulgaria).
For those who do not have tickets for RTMFest 2013, the entry price will be 30 RON in presale (until February 14th), online from www.iabilet.ro.
And also from our friends, Private Hell Bar and Fabrica Club on February 15 (the day of the concert), the tickets will be 40 RON.
The Artillery show and Romanian Thrash Metal Fest are exclusive productions of the Romanian Thrash Metal Club. http://www.rtmc.ro/