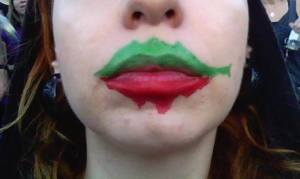 Conference

Pink, Purple & all the Rest

Saturday, February 8th, 2014 – 17:00 – Queering recent protests
Where
What
Debate & workshop, part of LGBT Month @ Atelier 35
Concept: Veda Popovici 8th and 9th of February 2014
In the past year we have went out to several protests, sometimes enthusiastically, other times just to help raise up the critical mass. Various causes, from saving Rosia Montana ad stopping shell gas exploiting to blocking the mediation law or the law for the so called euthanization of stray dogs have shown that the solidarity they all promote is an idea much more complicated to put in practice than it might seem. Maybe on some occasions we had to purposefully leave behind our pink (LGBTQIA) or purple (feminist) flags because they weren't that compatible with the rest of the actual or virtual flags to be found in the street. And maybe sometimes we left the flag home without being aware of it.
It's time for queering the protests.
We invite you to a discussion on how feminist and LGBTQIA identities and politics are in tune, intersect or are at odds with these recent street protests. By sharing our experiences from protests and political debates we can find the limits and also the unmapped intersections of such solidarities.
The discussion will be followed by a workshop addressed to all those who want to experiment how would an intersection of feminist LGBTQIA and ecological, anti-authoritarian politics look like. In the first part of the workshop (Saturday) we will start off with the question: how would a flag representing such a position look like? What colors, background and message would it carry?
The second part of the workshop will take place the next day and will consist of a public performance in which we will sew the flag we agreed upon.
Program:
Saturday, February 8th/Atelier 35
5-6.30 PM – Discussion
7-8.30 PM - Workshop (part I)
Sunday, February 9th/Atelier 35
5–7 PM – Performance