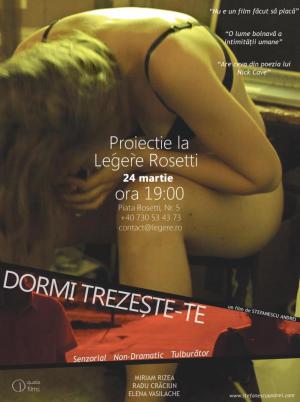 Film

Sleep Awake – Independent Movie Screening

Sunday, March 24th, 2013 – 19:00
Where
Legere Rosetti
5 Rosetti Square, Bucharest
What
free entrance, donations recommended
A no-budget by Stefanescu Andrei
with
Miriam Rizea
Radu Craciun
Elena Vasilache
cinematography
Sorin Nainer
art director
George Pancenco
Irina, not liking anything in her life, meets a boy and wants to have sex with him. But he is so strange and distant. She is not sure anymore. What happens with their souls? With their desires? With their lives? How a single event changes life.
A movie about the living silence around us.
About the fight between our fears and desires.
A contemplative, oniric, visceral film.
Hiper-minimalistic.
You can read our interview with the film producer here.