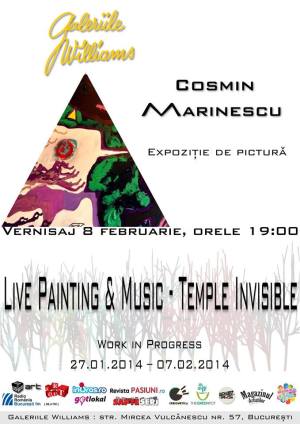 Art Show

Cosmin Marinescu Live Painting!

Monday, January 27th, 2014 – 14:00
Where
What
Cosmin Marinescu will be present at Galeriile Williams, Bucharest, between January 27 and February 8 to develop a 457-year old technique Ebru.
Ebru is a traditional Islamic and Turkish painting art, and can be defined as painting on water and transferring this painting onto paper. This style is also called marbling.(source:wikipedia.org/wiki/Ebru#Artform)
The artist will build his exhibition "live" and its evolution can be followed step by step, day by day until February 7.
The opening will take place on Saturday, February 8th, at 19:00.
Special guests:
Temple Invisible
www.facebook.com/pagesTemple Temple Invisible
http://soundcloud.com/templeinvisible