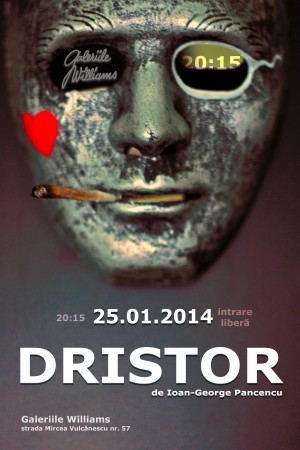 Film

DRISTOR - film screening

Saturday, January 25th, 2014 – 20:15
Where
What
Dristor, directed by Ioan George Pancencu
Ioan George Pancencu is student in his third year at UNARTE (Romanian Arts University) and the launching of this film is closing his art show.
The leading roles are interpreted Gabriel Sandu, Vlad Basarabescu, Iulia Dumitru and Adrian Hostiuc.
The film presents the Romanian reality in the outskirts of Bucharest, where two young people are facing a poor financial situation, being obliged to take care of their ill mother, take drugs and end up in dangerous and compromising situations.
Aware or not, they launch into the dangerous world of the drug dealers, end up in having problems and face the contempt of the society. They are marginalized but they resign themselves with this condition and decided that any step forward is futile. They have no more aspirations regarding their rehabilitation, readjustment to life conditions, they lose their hope and they indulge themselves in a hopeless situation.
The story inspires a cruel, abject reality which provokes the regulating and shaping processes of the society.