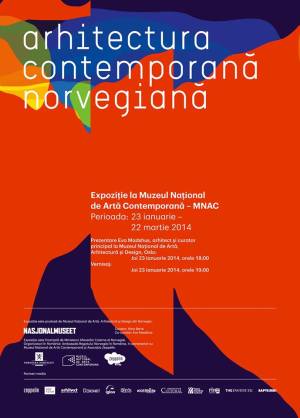 Art Show

Contemporary Norwegian Architecture # 7

Thursday, January 23th, 2014 – 18:00
Where
MNAC - National Museum of Contemporary Art

What
This exhibition is the latest in a series exploring contemporary Norwegian architecture.
It presents a selection of the best work by Norwegian architects from the past five years.
The selection features over 30 projects, grouped into different categories: new construction and renovations, intervention, educational and cultural spaces, recreation and public spaces, tourist routes, passive houses -country projects or developed outside of Norway.
Resembling with a railroad game, with elements of aluminium and ribs made from Birch wood, the exhibition has a modular structure that can be adapted to the various spaces, and makes each facility to have something different.
In addition, the public is invited to contribute to changing the appearance of the instalation, with the help of yellow floral elements made of polyethylene with which will be able to re-create various forms and attach them to this structure.
Curator: Nina Berre
Co-curator: Eva E. Madshus
Project Director: Ole Gaudernack, asistat de Stine Johansen
Exhibition Design: Magne Magler Wiggen sivilarkitekter AS
Graphic design: Anti AS
The exhibition is produced by the National Museum of Art, Architecture and Design in Norway (www.nasjonalmuseet.no), and financed by the Norwegian Ministry of Foreign Affairs
Organizers in Romania: Royal Norwegian Embassy in Romania, in partnership with MNAC and Zeppelin Association.