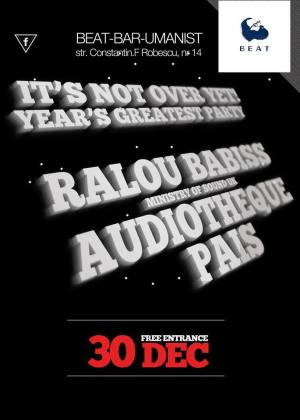 Party

IT'S NOT OVER YET!

Monday, December 30th, 2013 – 22:00
Where
What
2013 is not over yet!
Party in Bucharest @ BEAT bar
Line-up:
Ralou Babiss (Ministry of Sound London)
https://soundcloud.com/raluka-1
"Ralou Babiss, 27, I am a music lover since forever. I appeared in the underground music scene 2 years ago, having my official debut in Bratislava (Slovakia) where I used to live at that time.
So far I have been playing in bars ,clubs, for private parties in Bratislava, Brno, Bucharest and London and had a couple of guest mixes for radios such as Ministry of Sound, Vibe Fm and Deep Vibes Radio Uk.
Currently I'm working for Ministry of Sound in London, where I have been performing several times.
Beside djing I play piano, I sing and I produce my own songs. Hopefully you're going to hear my name on productions soon. I am very curious as a person so that allows me to experiment different things and swap between genres from down tempo to nu jazz techno dub and many many more.
I don't play music, I tell stories."

Audiothèque
https://soundcloud.com/audiothequero

Pais
"I'm Alex Pais, also known as Max Well, my main moniker. I'm an independent multimedia artist focused on the deeper shapes of Electronic Dance Music. I tell stories, different stories, sometimes with lots of details, sometimes i only hint an idea, letting your imagination play.
I do not label my music by genres because it's almost impossible to catalog something that comes out integer by composition and does not follow any musical trend. I write music, using electronic tools for about ten years, and I play music in clubs and radios.
I'm a feeling hunter and I hope every piece of my work will leave you an afterglow."

Free Entrance