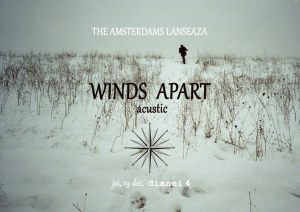 Launch

THE AMSTERDAMS – album launch!

Thursday, December 19th, 2013 – 20:00
Where
How much
15 LEI
What
"WINDS APART" acoustic album launch concert by The Amsterdams @ Dianei 4
The Amsterdams is a Romanian indie/electro outfit formed in Bucharest, 2006, fueled by their passion for the fresh, authentic new musical wave coming out of the alternative scene.
The Amsterdams' gigs are bursts of energy with their stage dynamics permanently changing (the band members constantly switch instruments).
Their ease of improvisation, along with the deep lyrical meaning, offers the audience an experience full of optimism and hints of nostalgia.
The Amsterdams is:
Andrei Hategan - vocals/guitar/keyboards
Andrei Ungureanu - guitar
Augustin Nicolae - bass/back vocals
Ovidiu Bejan - guitar/back vocals/keyboards
https://www.facebook.com/theamsterdams
Entrance fee: 15 lei