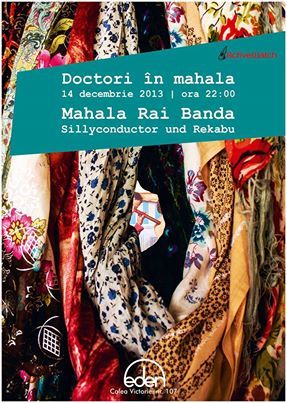 Concert

Mahala Rai Banda live! @ Eden Club

Saturday, December 14th, 2013 – 22:00
Where
What
Mahala Rai Banda fierce Gypsy funk concert in Bucharest @ Eden
An explosive fusion of Balkan and Gypsy rhythms and lightning-fast melodies from the Romanian band whose song featured all over the Borat soundtrack.
Mahala Rai Banda's unique Eastern groove evolved in the mahalas (Gypsy ghettoes) on the outskirts of Bucharest, Romania's ruined capital city. In these mahalas musicians from the southern village of Clejani (home to legendary Gypsy orchestra Taraf De Haidouks) jammed with brass musicians from the Moldavian village of Zece Prajini (home to Balkan brass blasters Fanfare Ciocarlia).
Quickly, they became the hottest weddings and parties band in Bucharest.
As Romanian Gypsies traveled into Western Europe the band's legend spread.
Be transported straight to a Gypsy wedding!
Source: http://www.mahala-rai-banda.com
https://www.facebook.com/mahalaRbanda
Free Entrance