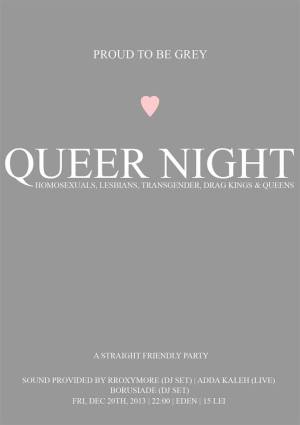 Party

Queer Night @ Eden Club

Friday, December 20th, 2013 – 22:00 – Proud To Be Grey Party in Bucharest
Where
How much
15 LEI
What
Girls, Ladies, Madams, Queens & co,
The time has come to praise your uniqueness in another juicy situation. Celebrating the pink force of matriarchate, this edition will bring together the crème de la crème in female delicacy and girl power.
Your favorite night will start with a unique live act provided by Romania's Sweet♡: the one and only Adda Kaleh, whose dreamy voice will open up all your frontiers.
(https://soundcloud.com/ama-diver)
rRoxymore aka Hermione Frank from Planningtorock's Human Level Recordings will lead you further in the marvels of the night. This feminist feline originally from France but based in the German capital is fruity and unpredictable. With her forceful DJ set you will slip into the future of dance music.
www.soundcloud.com/rroxymore
www.mixcloud.com/rroxymore
On top of it all, our Bucharest Queer Queen, Borusiade is coming home from Berlin to enchant you with her Goddess' set.
https://soundcloud.com/borusiade
Dress-code: pussy+kitty+drag
Host: a never been seen Palomus
Straight Friendly Party
Entrance Fee: 15 lei