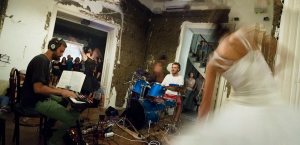 Concert

Kepler not Kopernikus live! @ Control Club

Thursday, December 12th, 2013 – 21:00
Where
What
jazz-punk progressive concert by Karpov not Kasparov @ Control, Bucharest
Line-up:
Karpov not Kasparov - new EP launches
Kepler not Kopernikus
LeVant
After party: Scoromide & Snagov
Karpov not Kasparov a project born in 2009 as a musical game between the drums and the vintage synth.
The duo soon incorporated an analog visual artist and two contemporary-dance performers. Thus resulted an experimental show of theatrical act performed on the spot with a live, real-time soundtrack. Many of these shows were hosted in rather unconventional locations like a barber shop, a public library, an old people's house, a restaurant toilet or a shoe store.
https://www.facebook.com/KarpovNotKasparov
LeVant is a project of contemporary electronica founded by Romanian producer George D. Stanciulescu.
By ingeniously fusing beautiful melodies and catchy club grooves with well-crafted electronics and experimental structures, LeVant aims to reveal a few selected incarnations of the virtually infinite possibilities of sonic becoming.
https://www.facebook.com/LeVantProject
Scoromide
https://soundcloud.com/bscoromide
Free Entrance