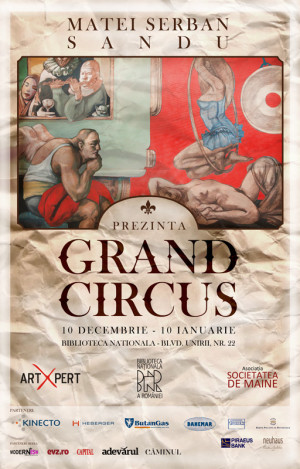 Art Show

Circus Is Coming to Town @ National Library

Tuesday, December 10th, 2013 – 19:00
Where
What
Matei Serban Sandu - Exhibition "Circus Is Coming to Town" opens Tuesday, December 10, 2013,19:00, at the headquarters of the National Library and it will be on display until January 10 2014.
Exhibition is organized by the Cultural Association "Societatea de Maine" and ArtXpert Gallery, and brings together six large works on canvas (200cm x 180cm), two wooden panels (40cm x 165 cm) presenting the constant work of the artist in the last year.
The "Circus is Coming to Town" series is the modern equivalent of the mythical with unique but outcast characters, such as the giant woman and the dwarf-strong man in "The Arena" as well as the hunchback and the contortionist in "The Caravan". The characters in the paintings, some repeated from his previous works, have a common element. They are solitary, generally not interacting with others, and in the few instances where characters do show a connection, it is impersonal. In fact no character looks at another and only two in the entire exhibit actually look at the viewer. Each person crowded around the table in the "The Graal" is unaware or indifferent to the others surrounding them, a reflection of our society today.
Matei's artistry in composition, skilled use of symbolism, and supreme craft of execution create works that are immediately attractive while also possessing a much deeper meaning. His work draws you in, forcing you to study it and contemplate the composition and message. The characters, individually and together, are the symbols, communicating Matei's social critiques. It is the viewer who must 'read' the paintings and the messengers therein.
This exhibit in the Romanian National Library brings the story of Matei's art full circle. Designed and started in 1986 as a principle part of Ceausescu's 'celebration of socialism' development project, the National Library building today hosts the work of one of Romania's most significant artists who has carried on the social criticism begun by the most important artistic voice of the communist era which the dictatorship failed to silence.
Matei uses humanity as his symbols. More specifically he uses the flawed, troubled, rejected or simply average parts of humanity, to communicate his social messages.
His paintings examine our daily struggle walking the line between right and wrong, strength and weakness, and generally dealing the daily 'circus' of our society's characters, especially those in positions of power.
Or perhaps we are the circus performers in a society in which the ruling elite benefit from our work and the only chance we have of improving our status is to make it to center ring of the three ring circus.
Visiting hours:
Monday to Friday 10:00 – 18:00
Source: http://popartxpert.blogspot.ro/