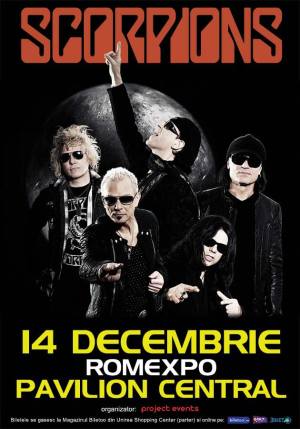 Concert

SCORPIONS - Rock'n' Roll Forever Tour 2013

Saturday, December 14th, 2013 – 20:00
Where
Romexpo
65-67 Marasti Blvd. Bucharest
What
SCORPIONS Bucharest concert will take place on December 14, 2013 at the Central Pavilion of Romexpo and is organized by Project Events.
Scorpions is a German rock band, originally from Hanover.
The band was founded in 1965 and includes current five musicians from different countries. Famous in the '80s for songs like "Rock You Like a Hurricane," "No One Like You", "Still Loving You", the band Scorpions emerged as the most valuable group of German heavy!
The ballad "The Wind of Change", released in 1990 and considered a symbol of the fall of the Berlin Wall became a success on a global scale, the best-selling single of 1991.
Throughout his career, the band has sold over 75 million albums worldwide.
The greatest delight for the Scorpions fans, of which there are several million throughout the world, is the fact that there is no end in sight for the Farewell World Tour, even though this has been continuing for three years now.
Scorpions still are Germany's internationally most popular rock band ever in the history of music, and of the 38 countries where farewell shows are planned, only 23 have been covered to date.
On top of this, the band has found the time and energy to bring to life a very special event: their first MTV Unplugged show.
On 11 and 12 September 2013, Klaus Meine (vocals, guitars), Rudolf Schenker (guitars, vocals), Matthias Jabs (guitars), Pawel Maciwoda (bass) and James Kottak (drums) played two fantastic acoustic sets in the Lycabettus theatre of Athens the first ever open-air show in the history of MTV Unplugged.
The open-air theatre, which was designed by the Greek architect Takis Zenetos in 1965 – and thus is just the same age as the story of the Scorpions – is situated on Mount Lycabettus, at 300m height, and offers an impressive view of the Greek metropolis.
Throughout its two-and-a-half hours, the show captivates with its numerous intimate moments and infectious adrenaline rushes (such as during a percussion solo). And there are even more nuggets from the sheer endless stock of hits – such as 'Still Loving You' and 'Big City Nights', 'No One Like You' and 'When The Smoke Is Going Down' – as well as a few welcome surprises to dazzle the connoisseur. 'When You Came Into My Life', where Rudolf Schenker plays a sitar, is one of those tracks which the Scorpions had never before played live, as are 'Where The River Flows' and 'Passion Rules The Game'.
In view of this unplugged marathon with the stunning emotional momentum it conveys, it is difficult to pinpoint single highlights, but what can be stated with certainty is that the Scorpions evidently enjoyed this musical rollercoaster ride through their own history. It is equally obvious that both rock songs and power ballads display their class and style even when rendered as acoustic versions. The melodies maintain their timeless compositional appeal and the quality of the performance proves time and again that the Scorpions are blessed – this time especially by the Greek gods, it seems. Source:http://www.the-scorpions.com/english/
Ticket prices are:
- SUPER VIP: 400 lei
- VIP: 325 lei
- GOLDEN CIRCLE: 250 lei
- NORMAL CIRCLE: 150 lei
Online tickets