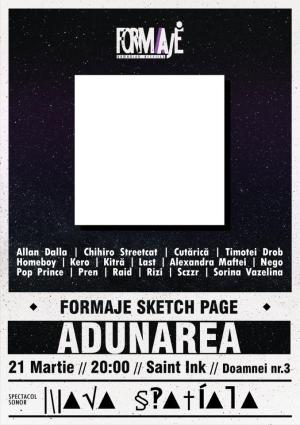 Art Show

Formaje Sketch Page - The Gathering

Thursday, March 21th, 2013 – 20:00 – Illustration Art Show and workshop
Where
Saint Ink
3 Doamnei St., Bucharest
What
The form is the exterior expression of content, the configuration used by an idea to contact the world.
Formaje gathering will show the interpretation of the forming action by several artists and a call for any isslustrator who likes to experiment.
Theme: illustrate any meaning of the word "formaj/e" (forming) – the action of giving forming, giving a form to an object. The only limitations are the format of the Formaje Sketch Page (22.5 x 22.5 cm) and the deadline – 21.04.2013.
After a month the gallery will show the best works generated by this gathering.
Artists in show: Kitră, Alexandra Maftei, Allan Dalla, Kero, Pren, Sczzr, Chihiro Streetcat, Rizi, Pop Prince, Cutărică, Raid, Homeboy, Timotei Drob, Sorina Vazelina, Nego and Last
Sound trip insured by NAVA SPATIALA.
Formaje – the essential Romanian artfiles is a project of UrbanArt association.