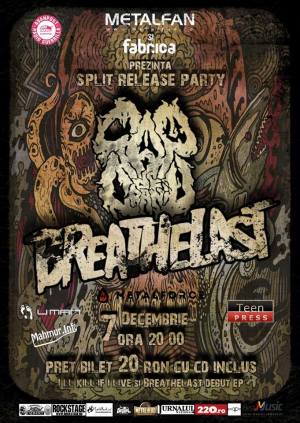 Launch

Split It Out! release @ Fabrica

Saturday, December 7th, 2013 – 21:00
Where
How much
20 LEI
What
On December 7, Cap De Craniu and Breathelast launch together a material, called "Split It Out!". The material will be released by Metalfan Records Division @ Fabrica Club and includes the latest pieces of the two Romanian metal bands.
The entrance will be at 20:00, the ticket price is 20lei, and includes two CDs.
Breathelast: Post hardcore Romanian band, concerned with keeping the proper dynamics balance in their music and also getting THE feeling across.
https://www.facebook.com/Breathelast
Cap De Craniu is a death metal / grindcore / metal band from Bucharest, Romania, formed in spring 2007.
https://www.facebook.com/CapDeCraniuOfficial