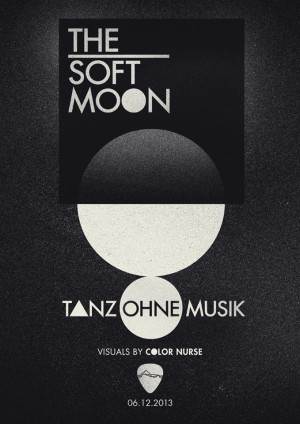 Concert

THE SOFT MOON live! @ Control

Friday, December 6th, 2013 – 21:00
Where
How much
25 LEI
What
Friday night concert in Bucharest @ Control Club
The Soft Moon is an American neo-post-punk band from Oakland, consisting of main producer, singer, songwriter, and instrumentalist Luis Vasquez. The Soft Moon's music covers a wide range of genres including krautrock, post-punk, psychedelia, world music and darkwave.
The Soft Moon was never intended for the public's ears, but you found it, were drawn in by its danger, and insisted that others hear. Oakland's Luis Vasquez began the project in order to better know his own self. He'd holed up in his apartment and let the tape roll, allowing gut and memory guide him. Those twin sherpas, however, led him to a place of darkness, claustrophobia and dread: a musical wasteland moving to a Motorik tic, its edges made jagged in the image of early post-punk, swathed in the moody atmosphere of vintage darkwave.
TANZ OHNE MUSIK - After a year since their last live appearance on the same stage with Dirty Beaches, TANZ OHNE MUSIK (Dan Serbanescu & Color Nurse) returns in Control to perform a new audio-visual set, with an organic analog sound, supported by a sublimated black and white imagery.