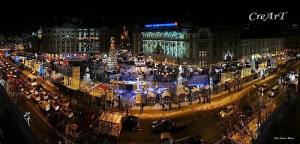 Fair

Bucharest Christmas Market

Friday, December 6th, 2013 – 11:00
Where

University Square, Bucharest
What
If you're in Bucharest for the winter holidays, you might want to check out the Bucharest Christmas Market in the University Square.
The Bucharest Christmas Market is open from December 6th 2013 to January 4th 2014, so there is plenty of time for you to sample traditional Romanian food, listen to Christmas carols and buy handmade souvenirs.
Bucharest Christmas Market has 65 small houses where traditional Christmas products, such as hot wine, plum brandy( tuica), ceramics, embroidered fabrics, wooden and leather crafts, masks, icons, traditional Romanian costumes, manually painted Christmas balls and other traditional winter holidays objects will be sold. Outdoor carol, folklore, traditional and pop music concerts will be organized on every day of the fair.
We invite you all to come together during the festive season and explore the unique Romanian traditions at Bucharest Christmas Market.
More
Opening Times:
Monday to Friday 11 am - 10 pm
Saturday to Sunday 10 am - 10 pm
Free Entrance
Fair program:http://bucharestchristmasmarket.ro/program/
photo: CreArt