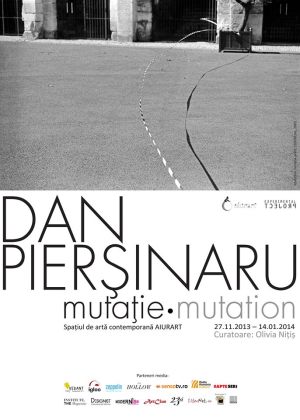 Art Show

Dan Pierșinaru - Mutație / Mutation

Wednesday, November 27th, 2013 – 19:00 – photography exhibition
Where
What
Dan Pierșinaru - Mutație / Mutation @ Aiurart Contemporary Art Space (Bucharest, 21 Lirei)
November 27th to January 14th, 2014
Curated by: Olivia Nițiș
Opening: Wednesday, November 27th, 7pm.
Between the 27th of November and the 14th of January 2014, the artist Dan Pierșinaru will be returning to the Contemporary art space at Aiurart with a personal photography exhibition.

For Mutation project Dan Piersinaru chooses an austere discourse with a focus on the process of forgetting in which the contact with the image takes place in the direction of assuming an unfixed category, revealing not only a subjective and selective reality, but rather unstable. The enthusiasm of a feeling or the panic of a moment recorded in images flows into a softening process, a self-defense mechanism of the brain, which thus can assimilate such new experiences and feelings. Remembering a moment, a face, or an object changes into a kind of mutation blur at the same time facilitating the transition to something else.
Dan Piersinaru's mutation is a human condition that we align to, even image consumers, especially since the image produced at a certain time, once consumed and archived is hopelessly replaced, both by the transmitter and receiver. The fragility of memory that Dan Piersinaru's photography speaks about is one that requires the personal and collective conservation effort. The photo installation is designed to encapsulate us in a database of a mind that has recorded images, states, moments and which reconstructs a path precisely through the abstraction produced by obliteration.
Short or long term memory loss, amnesia are not part of the conceptual and technical circuit proposed by the artist who is not interested in forgetting as a clinical phenomenon, although he remains connected to the image psychology from the perspective of the natural process of active change in the human memory according to specific cognitive biological data, environment, age and context. Dan Piersinaru builds an environment in which the image is in the intermediate stage, somehow dislocated and distemporal. It's a suspended image subjected to a mutation towards abstraction or complete blurriness, towards the something nothing, and not least towards completely something else.
Mutation exhibition is an exercise of reflecting the limits of memory on the level of image reception and a chance to reflect on these limits, never the same, always different.
(Olivia Nițiș - curator)
_____________________________________________

In projects that have reinforced his multimedia artist status, such as 'Be There' (2004, Huesca, Spain), 'Essay about Preservation' (2006, Bucharest, Romania) or 'Culturescapes' (2007, Basel, Switzerland), photography, video art and installations were skilfully combined to accommodate complex states of mind. By using such tools, he puts together art installations where the identity leitmotif is being mixed in with issues addressing the transition of a given place or human character with the passing of the time, compositions and states of mind being generated by accident or spontaneous movements and feelings shaping the ambivalence, the anonymity and the sheer evanescence that surrounds him.