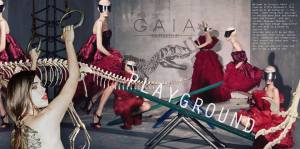 Party

Playground Party @ Gaia

Saturday, November 23th, 2013 – 23:00
Where
What
Strange Saturday night Party in Bucharest @ Gaia
Come on, little dinosaurs! This week we'll go swinging! ;) You know...that thing that you stay on and you move back and forward, back and forward...and you scream; Aaaaaaa! Oooooo! :)) When you have enough imagination all you need is a place to express it!
Saturday Gaia will be your REAL playground! With swings, monkey bars, sandboxes and trampolines! Fool around and share your "toys" with others!!!
Put your serious self away and get in for a game or two!