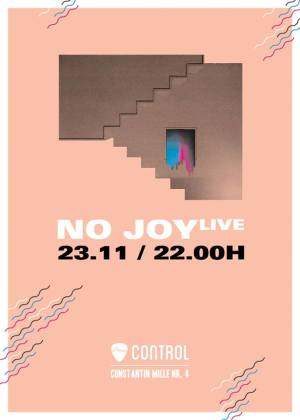 Concert

NO JOY live! @ Control Club

Saturday, November 23th, 2013 – 21:00 – Canadian Doomgazer/Pop Concert @ Bucharest
Where
What
Saturday night concert in Bucharest
Canadian band NO JOY live! @ Control Club
More
"The doomy shoegaze band No Joy began in November 2009, when guitarist/vocalist Jasmine White-Glutz was living in Los Angeles and guitarist/vocalist Laura Lloyd was living in Montreal. The pair wrote songs as long-distance collaborators until White-Glutz moved to Montreal and they could play shows together. One of their first gigs was with Best Coast; when that band's Bethany Cosentino said that No Joy was "the best band ever" on her Twitter feed, buzz began forming around the band.
The band's moody, interlocking guitars and ethereal vocals allowed them to fit on bills with bands as diverse as Wavves, Harvey Milk, and Besnard Lakes.
Meanwhile, Best Coast's label Mexican Summer signed No Joy and issued their self-titled 7", which was produced by Miracle Fortress' Graham Van Pelt in 2010.
The band expanded to a four-piece and enlisted the Raveonettes' Sune Rose-Wagner to mix their full-length album, Ghost Blonde, which was released in November 2010.
In 2012, a stop-gap EP entitled Negaverse was released while the band worked again with Rose-Wagner on the follow up to their debut.
Ultimately, however, the band was unsatisfied with the results and shelved the sessions, opting instead to work with Chairlift member Jorge Elbrecht on what would become their 2013 sophomore release Wait To Pleasure."