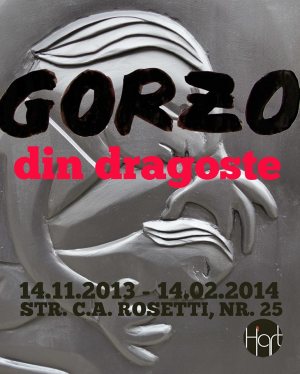 Art Show

Din Dragoste (Out of Love) - Dumitru Gorzo

Thursday, November 14th, 2013 – 19:00
Where
What
Art Show Opening - November 14, 7pm
Exhibition: November 14, 2013 - February 14, 2014
More
Dumitru Gorzo is a contemporary Romanian artist. His works feature a satiric attitude towards various issues of the society - especially his politically-tinged and "pornographic" paintings drawn much attention, making him controversial among critics and especially the public.
Dumitru Gorzo was born in Ieud, Maramures, Romania in 1975. In 1997 he received a visual arts degree from the University of Fine Arts in Bucharest, Romania. He was the co-founder of 'Rostopasca', an influential contemporary artistic movement in Romania.
Gorzo's methods of working have ranged from street prankster to performance artist to studio painter and sculptor—effectively evading any strict categorization. In 2006 he was the subject of a major, one-person exhibition at the Romanian National Museum of Contemporary Art (MNAC) in Bucharest. The exhibition then travelled to the Brukenthal Art Museum, Sibiu, Romania. Since 1999 he has featured in many exhibitions in Romania where his work garnered extensive press coverage and a growing audience.
His exhibitions have frequently generated controversy for their political and sexual subject matter and the artist's unusually bold treatment of issues that are still considered quite controversial in Romania.
Part of his work evokes the traditional Romanian art of woodwork of his native village. In his paintings on carved wooden reliefs, the artist portrays relatives and neighbours over relief sculptures of primitive characters and archetypes carved by the artist into panels of linden and fir. Gorzo has returned repeatedly to the members of this village of Ieud as a subject.
In addition to numerous solo exhibitions in Romania, Germany, Austria and Luxembourg, his work has been included in group shows in Austria, Belgium, Germany, Italy, Luxembourg and Romania. (source: secondforest.eu)