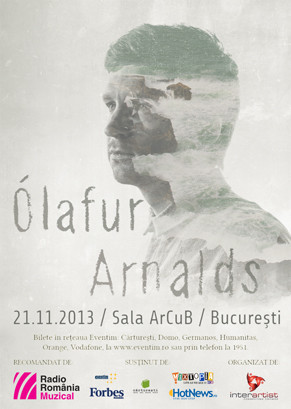 Concert

Ólafur Arnalds @ ArCub

Thursday, November 21th, 2013 – 20:00
Where
What
Classical, ambiental and electronic music entwined in an original, internationally acclaimed style - Ólafur Arnalds in Bucharest on 21st November 2013 at ArCuB Hall, on tour promoting his latest album "For Now I Am Winter".
The artist began his musical career as a drummer for a few hardcore/metal bands. Shortly he was asked to write some instrumental intros and outros for the German band Heaven Shall Burn, making his way as a composer. After the release of his debut album, he released another 4 EPs and 2 albums, well received by an ever-growing audience. Ólafur Arnalds is also well-known for his projects as a composer of music scores, such as ballet "Dyad 1909", TV series "Broadchurch" or movie "Another Happy Day".
The tickets for the concert, priced between 90 lei and 120 lei, are available in Eventim network - online at www.eventim.ro and in Domo, Germanos, Orange, Vodafone shops, Carturesti and Humanitas bookstores. Also, the tickets can be booked by phone, dialing the number 1951.
Source: http://www.interartist.ro