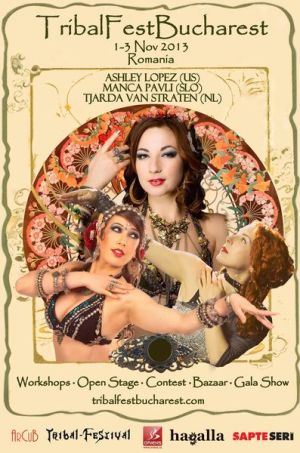 Festival

Tribal Fest Bucharest @ ArCub

Friday, November 1th, 2013 – 14:00
Where
What
Cutting edge dance workshops, Contest for professional and semi-professional dancers, Open stage, Bazaar & Gala Show
Tribal Fest Bucharest is the first initiative of this kind in Romania and it's special because all the dancers that are going to be part of it, are pioneers, contributing to making this style more accessible in the region, thus opening the gates to innovation.
More
What exactly is Tribal Fusion Belly Dance?
It's a contemporary dance style, born and bred around year 2000 in San Francisco, derrived from ATS (American Tribal Style). Both Tribal Fusion as well as ATS, have the same foundation: a sequence of moves of middle eastern descent.
Tribal Fusion blends specific elements from different dance backgrounds: from traditional (African, Balinese, Flamenco), to classic (Indian or Persian), ethnic (Egyptian) or even modern (Hip-Hop, Break-dance, Pop Locks). Unlike ATS, soloists/troupes start to dance on a preset choreo. Costuming changes according to each dancer's style. Music also changes to become more electro or western. Today, you can see different kind of Tribal Fusion, such as gothic fusion, burlesque fusion, vintage fusion, urban fusion.
Fest Schedule
Friday, Nov 1
Workshops
Tjarda - The Creative Lab - 14:00 ArCuB Workshop Hall
Ashley - Fast Furious, Silky Snake - 16:30 ArCuB Workshop Hall
Manca - From Tribal to Fusion - 19:00 ArCuB Workshop Hall
Saturday, Nov 2
Workshops
Manca - The Silky Upgrade for the Tribal dancer - 10:00 ArCuB Workshop Hall
Ashley - Catchy Fusion Combos - 12:30 ArCuB Workshop Hall
Tjarda - Valuable Technique for Contemporary Fusion - 15:00 ArCuB Workshop Hall
Bazaar - 12:00 ArCuB Foyer
Open Stage - 18:00 ArCuB Show Hall
Fusion Dance Competition - 19:00 ArCuB Show Hall
Sunday, Nov 3
Workshops
Manca - Beyond Choreography - 10:00 ArCuB Workshop Hall
Ashley - Building Character - 12:30 ArCuB Workshop Hall
Tjarda - In a Manner of Speaking - 15:00 ArCuB Workshop Hall
Bazaar - 12:00 ArCuB Foyer
Gala Show - 20:00 ArCuB Show Hall
Source:http://tribalfestbucharest.com/?idT=1&idC=1