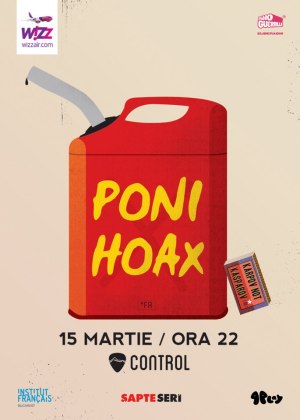 Concert

PONI HOAX live

Friday, March 15th, 2013 – 22:00 – French electronica with Gallic dance beats + solid rock & roll attitude concert
Where
How much
30 LEI
What
PONI HOAX (Pan European Recording, FR) *live

Karpov not Kasparov (Ro) *live
--------------------------------------
Although French electronica has been inarguably cool since the rise of Air in the mid-'90s, Poni Hoax are likely the first band to fuse the sophistication of Gallic dance beats with solid rock & roll attitude (imagine if the Strokes really were as cool and debonair as they pretend to be) and a soupçon of the lyrical perversity and overall suavity last seen in French pop when Serge Gainsbourg was at the height of his powers.
More
The four musicians in Poni Hoax met while studying at the Conservatoire Nationale de Musique in Paris; upon leaving school, keyboardist Laurent Bardainne, guitarist Nicolas Villebrin, bassist Arnaud Roulin, and drummer Vincent Taeger continued experimental rehearsals on their own time while working as studio and tour band musicians. A meeting between Bardainne and the stylish Franco-Cambodian singer Nicolas Ker in a local bar brought the band a charismatic frontman in the camp-cool mode of early Bryan Ferry; the patronage of popular dance producer and remixer Jakim Bouaziz brought the band to the influential electronic indie Tigersushi Records. Poni Hoax's debut EP, Budapest, was released in the fall of 2005. Their self-titled debut album, with a properly faux-decadent cover photo of a nude young girl gazing pensively at, of all things, a live owl, was released in the summer of 2006, with a remix EP following the next year. In 2008, Poni Hoax released their sophomore effort, Images of Sigrid, on Tigersushi France. ~ Stewart Mason, Rovi
---------------------------------
Karpov not Kasparov is a project born in 2009 as a musical game between the drums and the vintage synth.
The duo soon incorporated an analog visual artist and two contemporary-dance performers. Thus resulted an experimental show of theatrical act performed on the spot with a live, real-time soundtrack. Many of these shows were hosted in rather unconventional locations like a barber shop, a public library, an old people's house, a restaurant toilet or a shoe store.
In autumn 2011 the disc label LocalRecords released an electronic EP called 'Soundtrack for a Game of Chess". The EP was soon considered among the best musical works of the year by Radio Romania Cultural and Radio Europa Libera and then was declared 'the album of the month' by Vice Magazine.
In 2012 the project resurrected on the local scenes in a succession of live shows followed by the first European tour in Budapest, Vienna and Berlin. Deeper vibes of energy were reported at gigs due to the addition of live drums on the stage!