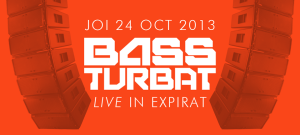 Concert

Bass Turbat Live in Expirat

Thursday, October 24th, 2013 – 22:00
Where
How much
10 LEI
What
Bass Turbat - Romanian Bass Music concert
Unlocka - DJ
Hardplay - Synths
Shega - chitară
MAD - tobe
Dru Klein - MC

Special Guests:
DUBios Sound (Alex Mish & Lucian C)
Motion Monument
Sharky


More
Bass Turbat was established in 2011 by Unlocka, one of the most active DJs and promoters of the Romanian Bass Music scene. It quickly became the most well-known local brand of Dubstep and Drum&Bass, being supported by thousands of fans on Facebook and YouTube. After headlining countless events around the biggest cities of Romania, Bass Turbat began performing on the main stages of some of the most important local electronic music festivals.
A big step forward in the history of Bass Turbat was taken at the beginning of 2013 when Hardplay(synths), Shega(guitar) and Mad(drums) joined the collective, thus introducing the first live instruments into the band. In may 2013, the band released its first original track called "Roșu Închis" featuring Junkyard, R.O.A's lead singer. It was launched on Radio Guerrilla, one of the best radio stations in Romania. After this premiere, the band was invited to perform live at several festivals, such as Solid Like Rock, B'estfest, Maraton Festival and Urban InFusion.

At this point in time, the guys from Bass Turbat are working hard on their first album alongside some of the most important names of Romania's underground music scene. Their live act currently consists of five members: Unlocka (DJ), Hardplay (Synths), Shega (Guitar), Mad (Drums) and Dru Klein (Vocals).