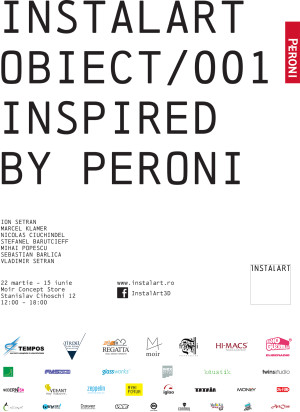 Art Show

Instalart/ Obiect/ 001

Friday, March 22th, 2013 – 19:00 – Object Design Art show
Where
MOIR Design Concept Store
12 Stanislav Chihoschi St., Bucharest
What
Instalart, a cultural association with the goal of promoting and support three-dimensional arts (sculpture, object and land art) invites you to the launch of the project Instalart/ Obiect/ 001- Inspired by Peroni. Seven of the great Romanain object designers will be presented with their works.
Ion Setran
Marcel Klamer
Nicolas Ciuchindel
Sebastian Barlica
Mihai Popescu
Stefan Barutcieff
Vladimir Setran, founder of design section of UNARTE (Romanian University of ARTS)
Instalart/ Obiect/ 001- Inspired by Peroni presents the designers above, their activity and the objects proposed for the project. The exhibition will be available until beginning of June, when their proposals for the project will be shown to the public. The theme is Italy from the 60s and the objects are made by Instalart with the help of its sponsors and partners.