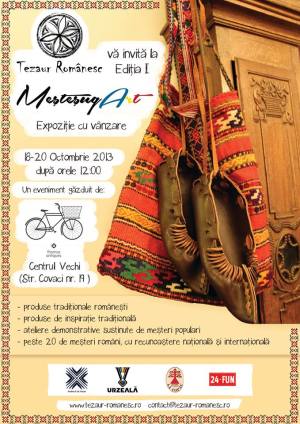 Fair

MeșteșugArt Romanian Traditional Crafts and Design Fair

Friday, October 18th, 2013 – 15:00
Where
What
MeșteșugArt – 1st Edition of the Traditional Crafts and Design Fair @ Thomas Antiques
Friday, October 18th: 3 pm – 8 pm
Sat.-Sun, October 19th -20th: 12pm – 8 pm
Official Opening Event – Saturday, October 19th, 5pm

Pay a visit to this Romanian traditional fair this weekend if you are looking for quality shopping in Bucharest!
Objects created by over 20 Romanian designers inspired by traditional art, as well as some Romanian traditional artisans and young Romanian designers such Vasile Ene, Marin Predușel, Florentin Cantaragiu, Alexandru Ilica, Cornelia Untilov, Carmen Cătană Tomea, Eugenia Tudor, Olimpia Dumitru, Tudor Manciulea, Florin Mândru, Daciana Ungureanu, Nicolae Rotaru etc.
Interesting crafted objects for sale directly from their creators, on a wide range from wooden objects to ceramics, traditional costumes, bed clothes and carpets, natural cosmetics and design objects inspired by Romanian traditions.
If you already decided to go back from your Bucharest trip with a nice traditional Romanian souvenir, also prepare for some traditional culinary surprises during this fair!