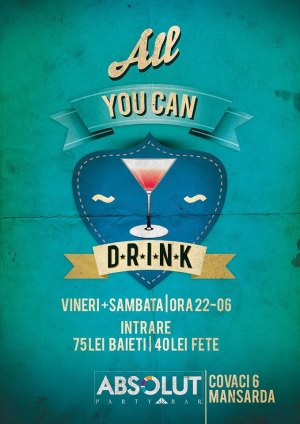 Party

ALL YOU CAN DRINK PARTY

Friday, November 15th, 2013 – 21:00
Where
Absolut Party Bar
6 Covaci St., in the attic, Bucharest
How much
75 LEI
What
ALL YOU CAN DRINK PARTY - DONT THINK JUST DRINK!
18+
This party concept is for you, party animals!
Every Fridays and Saturdays from 10 pm to 6 am this all you can drink party is going to make your stay in Bucharest… well, dizzy :)
Pay 75 lei (about EUR 17) if you are a boy or 40 lei (some EUR 9) if you are a girl and pour it in: beers, long-drinks, shots!
For reservations, call here: 40784237788 or 40784237789
Don't blame us for your morrow hangover!