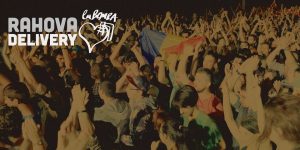 Festival

Rahova Delivery

Friday, October 18th, 2013 – 00:00 – street festival
Where
Street Delivery
Sabinelor St., Rahova district, Bucharest
What
Rahova Delivery street festival
October 18th – October 20th 2013
Rahova is a district in Bucharest, often and unjustly associated with bad clichés. True, it is mostly made of ugly buildings and the population is poor, houses were demolished by the communist regime and people were squeezed into concrete blocks of flats, not far from ghettos, which leaded to cultural loss, alienation syndromes and isolation.
One of the most intense and vulnerable communities of Bucharest, made mostly of Roma people, will be the host of the first edition of RAHOVA DELIVERY street festival, the Sabinelor St. aiming to become a cultural platform and civic network. The event, organized by laBOMBAstudios association and Street Delivery, supported financially by the National Cultural Fund Administration, brings in the middle of the street a special "Bairam" (ethnic party), with music, dance, food, Roma traditions, arts and crafts, but also creative workshops.
Following the model proposed by the previous events (Street Delivery and Train Delivery), artists and creative associations are involved in Rahova Delivery project.
For you, as a tourist, this is a precious opportunity to discover an alternative Bucharest, with its best – artists, vibrant people, traditions and joy.
More
MUZZIK @ Rahova Delivery – The Music Scene
Friday, October 18th
17:00-18:00 Bogdan Scoromide
18:00-19:00 Pantazică & Bogdan
19:00-20:00 Dragoș Rusu
20:30-23:00 Ion (Future Nuggets)/Matze/Miss Kittin de RAHOVA
Saturday, October 19th
17:00-18:00 That Couch Funk Collective & Bica
18:00-19:00 Casetofoane (Local Records)
19:00-20:00 Sillyconductor/Rekabu
20:30-21:30 Fanfara Extraterestră
21:30-23:00 Steaua de mare
Sunday, October 20th
12:30-13:30 Godzuki Mysterious Monster
13:30-14:30 Kapnobatai
14:30-15:30 Deeproots
18:00-19:00 Django Sound Quartet
19:15-20:15 Luiza Zan
20:30-21:30 Omu Gnom & Măcel Mai Chill live band