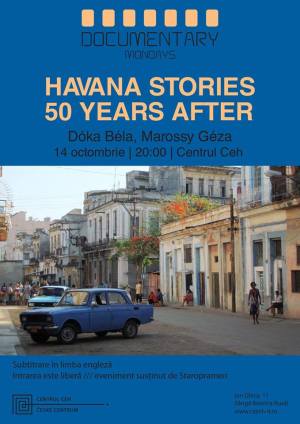 Film

Havana Stories - 50 years after @ DOCUMENTARY MONDAYS

Monday, October 14th, 2013 – 20:00 – documentary screening
Where
What
Havana Stories - 50 years after @ DOCUMENTARY MONDAYS

Dóka Béla, Marossy Géza | Ungary 2009 | 42'

Every year, thousands of young people try to escape from Cuba in different ways, on rafts, with illegal visas, interest marriages, legal or illegal work contracts. Why? In "the country of utopias" Yoani Sánchez started her blog called Generation Y, translated ever since in over 20 languages.
For Cubans this expression form is banned by the authorities. In 2008 Time Magazine included Yoani on the list of the 100 most influent people in the world.
This documentary shows how Yaris express since 2004 her thoughts and opinions on the social and politic situation in Cuba with the help of hip-hop.
Yoani Sánchez became the most popular blogger without an internet connection at home.
English subtitles
Free entrance