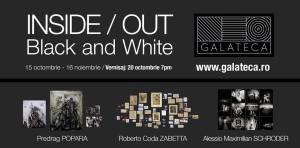 Art Show

INSIDE/OUT (Black&White) @ Galateca

Tuesday, October 15th, 2013 – 12:00
Where
What
From October the 15th to November the 16th 2013 in the gallery GALATECA in Bucharest (Romania) Roberto Coda Zabetta (Italia), Predrag Popara (Serbia), Alessio Maximilian Schroder (Italia) will exhibit their works of art, gathered around the project Inside/Out (Black&White). Through a common figurative dialogue, all three artists bring the answers to the questions of the contemporary man of nowadays, who exists in a society that doesn't manage to harmonize its own social and spiritual rights, as well as those of minorities that regard society very often from the periphery.
http://www.art-popara.com/en/
http://www.robertocodazabetta.com/
http://www.amschroder.com/
This is the first time these artist showcase their works in Romania and some of the artwork exhibited is here shown for the first time ever to an audience. The exhibition is initiated by artist Predrag Popara and organized by Galateca curator Roxana Gibescu.
Opening on October 20th, 19:00.