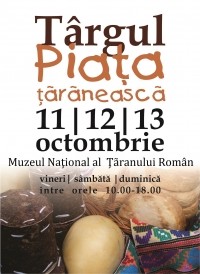 Fair

Traditional Fair @ Peasant Museum

Friday, October 11th, 2013 – 10:00 – Are you looking for an authentic Romanian souvenir ?
Where
How much
0 LEI
What
Good food, peasant antiquities, young artists and folk artisants are some of the surprises the Bucharest tourists and inhabitants will discover at the Brumarel Fair, which takes place between 11-13 October, in the yard of the Muzeul Taranului Roman ( Peasant Museum ).
The peasant market and the Mester (You Handicraft) organises starting with Friday to Sunday from morning till night, the Brumarel Fair, where the Bucharest tourists will find ' everything and for all ages'. Barbecues and young wine, good food in pots, hot drinks, cheese and delicatessen from Galati, Arges and Brasov, cakes and gigantic pies coming from Turnu, confectionaries and honey, teas and garden herbs, ginger bread and pretzels, traditional cakes, as if in an authentic Romanian peasant market.
For specialists and collectioners there will be in the yard peasant antiquities and furniture, china, clocks, pots, paintings, photo cameras and books. At the same time, young artists with demonstrations at the site and folk handicraft people: jewelry, wood, icons, blouses, ceramics, painted boxes and interior decorations, ceramics and glassware, other handicraft things can be seen at the Brumarel Fair.
If you are a tourist and want to find some authentic Romanian gifts, for your love ones the Brumarel Fair (Autumn Peasant Fair) in Bucharest is definitely the place to be.
The opening hours for the fair are 10 :00 to 18 :00.
Free entrance.