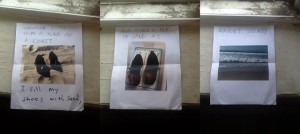 Art Show

Stranded Travelers

Thursday, October 10th, 2013 – 19:00
Where
What
Stranded Travelers
October 10th 2012 – November 8th 2013
Opening: Thursday, 10 October, ora 19.00

Artists:
David Horvitz (USA)
Martin Llavaneras (ES, DE)
Dave Ball (UK, DE)
Raluca Croitoru (RO)
Bruno di Lecce (IT, GER)

Curator: Adriana Blidaru (RO, DE)

The exhibition Stranded Travelers explores what traveling means and how it expands from the individual to the universal.

The concept of traveling always has had symbolic connotations associated with adventure, research, adulthood and progress. Since childhood we are constantly exposed through local folklore and media to the idea that traveling equals progress; both on financial and on personal terms. In recent times traveling has evolved from a necessity to a commodity that promises to enrich our own unique development.

Starting off from personal experiences and introspections, both the concept of the exhibition and the works presented within it seek to investigate what it means to keep one's individuality and preserve his/her personal history in a constantly transient society. By trying to better understand and reflect on the contexts that we originate from, we can understand the limitations we are facing as well as create improved ways of confronting and dissolving them.

The works brought together underline a reflective attitude of the contemporary traveler, while also raising awareness of the slow processes that are born within the individual while their landscapes evolve.

The opening will include a performance featuring Raluca Croitoru, invited by Bruno di Lecce.