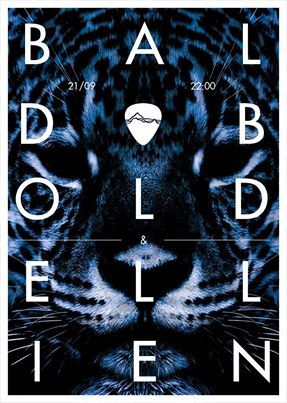 Party

BALD&BOLD and ELLIEN @ Control

Saturday, September 21th, 2013 – 22:00
Where
What
Control Club's newly refurbished venues invites you to a new Bucharest parties season opening!
___________
Bald & Bold

Born one year before the end of the Mayan calendar, BALD & BOLD have emerged from the deep depths of the underground to prepare you all for the coming of the next Long Run, or The End Of The World as we know it.

Having extensive electronic music background and a club scene knowledge that spans back for more than 10 years, Bald And Bold decided to take matters into their own hands and entertain the bored-out masses of modern party goers with exquisite taste and an ear for the refined modern sound of house and disco.

Their artistic background is deeply rooted in architecture, film, design, illustration and photography, which can be easily re-discovered in the sets they perform: the smooth transitions from genre to genre, the visual imagery depicted through hypnotic grooves and mesmerizing vocals, the perfect definition and texture of the sounds they play, they all complement each other and help build a new and unique experience: the sound of the future!

_____
EllieN

EllieN entered the electronic music scene by organizing various events for promoting urban culture, that materialized into real events that have resonated throughout the country.

She discovered her passion for playing in 2005, combining a variety of styles that were more or less influenced by moods and emotions she wanted to send at that time. By playing different styles, EllieN became the host of many local and online radio stations and bars and clubs from all over the country.

After taking a break, she moved to Bucharest and started to play music again, making selections by feeling, more precisely 'soulection', mixing styles as Techno, House,Deep House, Deep Techno, Balearic, Detroit, Chicago, Soulful, Funky, Jazzy House to Classics.

Her creative life style is reflected in everything she does, surrealism can describe best her work, being her "way of living and thinking".