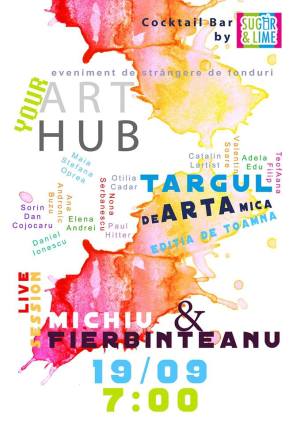 Fair

Your ART HUB - Contemporary art fair opening

Thursday, September 19th, 2013 – 19:00
Where
ART HUB
107 Marasesti Blvd., Bucharest
What
Your ART HUB is a fundraising event for this arts meeting place.
* Michiu & Fierbințeanu (live session)
* Sugar&Lime (cocktail bar)
* Contemporary art fair - 19th-30th of September 2013 with over 100 paintings, drawings, objects by professional artists such as: Elena Andrei, Ana Andronic Buzu, Otilia Cadar, Sorin Dan Cojocaru, Adela Edu, Teofana Filip, Paul Hitter, Cătălin Lartist, Maia Ștefana Oprea, Valentin Soare și Nona Șerbănescu.

(art works also available for sale online @ GrowArt.ro)

free entrance - donations appreciated!