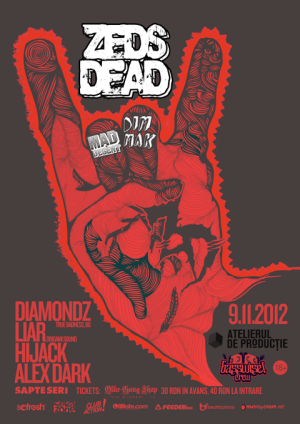 Concert

ZEDS DEAD @ Atelierul de Productie

Friday, November 9th, 2012 – 22:00 – live electronic music concert
Where
How much
40 LEI
What
(access 18+ only)
Special guest: DIAMONDZ (True Badness, BG)
__________________________
Local support:
LIAR (Origami Sound)
HIJACK
ALEX DARK
More
DC and Hooks are Zeds Dead. They first hooked up in 2004 and formed Mass Productions. Influenced by the digging in the crates sampling school of hip hop, Mass Productions released one independent album in the summer of 2007 entitled Fresh Beetz. It was their first and only release.
In the summer of 2009, the two launched their second collaboration – Zeds Dead – turning up the bpm and aiming the bass-lines at the dance-floor.
As two of the hardest workers in electronic music, Zeds Dead's tireless efforts have earned them an excellent reputation amongst a new generation of producers as artists without borders – genres hold no bearing over their music as they transcend style and form with ease. They have established themselves as a dominant force in EDM circles and have received recognition and praise from tastemakers worldwide.(Facebook official)
<div class="fb-like data-ref= fb_edge_widget_with_comment fb_iframe_widget" "="" data-layout="button_count" data-show_faces="false" data-action="like" data-width="90" data-font="arial" data-href="https://bucharest-tips.com/guide/zeds-dead-atelierul-de-productie/" data-send="false" fb-xfbml-state="rendered" style="margin: 0px; padding: 0px; border: 0px; outline: 0px; font-family: inherit; font-size: inherit; font-style: inherit; font-variant: inherit; line-height: inherit; vertical-align: baseline; position: relative; display: inline-block;">