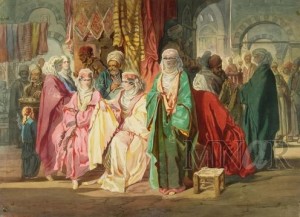 Art Show

Carol Popp de Szathmári and the artistic revelation of the Orient

Tuesday, September 3th, 2013 – 00:00 – drawings and watercolours
Where
What
Between the 7th of November 2012 and the 22nd of September 2013 The Cabinet of Drawings and Prints of the National Museum of Art of Romania presents the temporary exhibition Carol Popp de Szathmári and the artistic revelation of the Orient in the rooms dedicated to the display of graphic art in the Romanian Modern Art Gallery.
The exhibition is organised by Elena Olariu, specialist of the National Museum of Art of Romania.
Celebrating 200 years since the birth of painter and photographer Carol Popp de Szathmári (1812 – 1887), this unique exhibition gathers 47 drawings and watercolours from the patrimony of the National Museum of Art of Romania, inspired by Oriental themes.
For Szathmári the Orient is a fascinating world, which penetrates and inspires the author to create his most valuable and spontaneous works.
According to the notes on his watercolours and drawings, Szathmári has frequently traveled to Istanbul, has visited Syria and Ancient Persia, territories then included in the Ottoman Empire. In 1864 Szathmári accompanied Alexandru Ioan Cuza, ruler of Romanian Principalities, to Constantinople. On this occasion he created a sketch presenting the encounter between Cuza and the sultan Abdul Aziz in the presence of Fuad Pasa.
In Istanbul, Szathmári gravitates towards the Great Bazaar, the Bosphorus shores and the Muslim cemeteries, where he creates sketches and watercolours dazzled by his surroundings. He senses that the Bazaar deeply reflects the oriental way of life. Here people drink their tea or coffee, smoke chibouk or hookah, eat and hear the novelties or shop for silk, Persian carpets, perfumes or jewellery.
Carol Popp de Szathmári is the first Romanian painter who profoundly loved the Oriental theme. He instilled this passion in his son, Alexandru, who inherited his artistic talent. The first contact Alexandru had with oriental subjects was throught the fascinating tales of the "1001 nights". The watercolour with the old man and child leaving Constantinople, created by Szathmári – the father – could be an illustration of such tales. The work was created in 1883 for his 12 years old son.
Later, Alexandru Satmary, alongside four other Romanian painters - Iosef Iser, Ion Theodorescu-Sion, Gheorghe Pătraşcu and Ipolit Strâmbu – will discover the beauty of Balchik and Dobrogea, contributing to the resurgence of the Oriental theme in Romanian art.