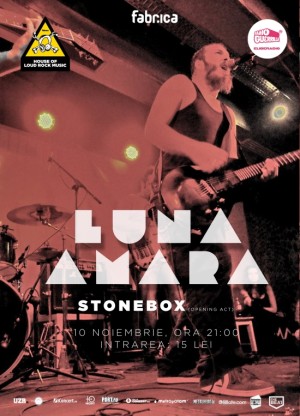 Concert

Luna Amara concert @ Fabrica

Saturday, November 10th, 2012 – 21:00 – alternative rock concert
Where
How much
15 LEI
What
Opening Act:
STONEBOX (grunge, Bucharest)
VALERINNE (post rock, Bucharest)
LUNA AMARA ("bitter moon") is one of the most successful alternative rock Romanian bands. Actually, it is more than a band, as its members are trying to create not only music, but to be a constant reminder of the social and political issues present in the day-by-day Romanian society.
Together with influences from Tool, Deftones, Porcupine Tree, Opeth, Alice in Chains, Pearl Jam and others, LUNA AMARA brings an unique fusion between trumpet solos and heavy guitar riffs. Since it started, in 2000, the band played more than 700 shows, not only in Romania – where it has been on every major festival stage, but also in Hungary (at Sziget Festival 2005 and 2007), Bulgaria, Turkey, Germany, Holland and France (East West Fest 2006, Lille).