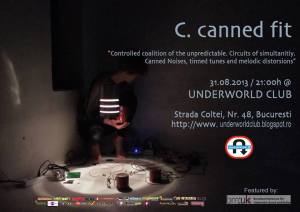 Concert

Kaleidoskop insights feat C. Canned Fit... @ Underworld

Saturday, August 31th, 2013 – 21:00 – Noise and Projections from Vienna! @ Bucharest
Where
How much
10 LEI
What
"Kaleidoskop Insights" featuring "C. canned fit" is a concert-tour & an acoustic road-movie through the contemporary Romanian culture scene.
More
A concert tour of Christine Schörkhubers solo program "C. canned fit" and an acoustic road-movie through the contemporary Romanian culture scene.
People engaged in the cultural sector speak about their work, their ambitions, motivations and circumstances of production. Field recordings, soundscapes and music interactions interlude with narrative Interviews and spoken comments.
The Radio Feature portrays .... cultural organizations in different contexts. The aim of the project is, to show a variegated and vivid potpourri of different cultural institutions in Romania from Off-Spaces witch are the germ cell of the art of tomorrow, across archeological attestations of former times, hackerspaces, performing art and dance institutes.
C. Canned Fit
(Vienna, Austria)
Controlled coalition of the unpredictable. Circuits of simultanitiy. Canned Noises, tinned tunes and melodic distorsions. The sound artist Christine Schoerkhuber works with a fragile yet powerfull setup consisting of self-built electronic analog interfaces, sonorous everyday commodities and her voice. The performance is trembling between subtle crunchy sounds, song fragments, noise-fields and penetrating drones.
"At times aged metallic sounds fused with warm shades of wood, then turns into a surreal and powerful air and fire spiral that was the prelude to a stylized silhouette of female voice throwing cascades of reverb, while folding time and space in a frequency Set drowning in seas of subsonic notes."
Suggested donations 10 ron