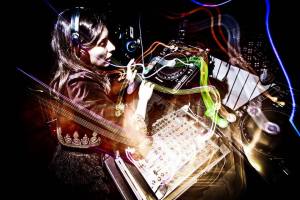 Concert

Nico de Transilvania @ Dianei 4

Friday, August 30th, 2013 – 22:00
Where
What
Nico de Transilvania is the consummate entertainer. Bringing together a unique blend of Balkan/Global/Swing/Electro sounds—blending brass, gypsy folk songs and swing basslines with a heavy electronic beat—native-born Transilvanian, Nico, has carved out her own niche as an international DJ. Today she continues to explore and combine sounds from around the world as she stays true to her philosophy of music without frontiers.
She has headlined at music, film, and art events from the Secret Garden Party, Big Chill, and Bestival, to the Biennale in India, Art Dubai, V&A museum, London fashion shows and film festivals in Reykjavik, Transilvania, London and Belfast. As well as performing, she has curated sell-out multi-media events at some of the UK's top festivals and worked along-side an eclectic mix of talent, including Blondie, Leftfield, Apparat, Norman Cook, M.I.A, Telepopmusik, The Correspondents, Fanfara Ciocarlia, Mahala Rai Banda and Boban Markovic.
Nico made her name as a resident DJ at the legendary Balkaneasca where she rapidly became a crowd favourite. She later created her own Super Mishto night in Brighton which soon gained its own impressive reputation.
This Friday in Bucharest go party!