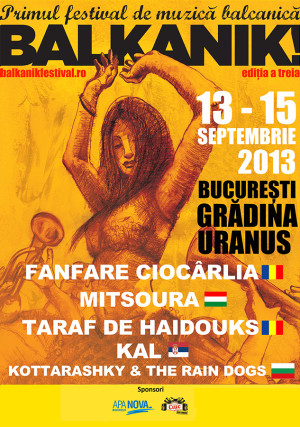 Festival

Balkanik! Festival @ Uranus Garden

Friday, September 13th, 2013 – 12:00 – Let yourself be kidnapped by the madly Balkanik fever!!
Where
How much
130 LEI
What
Join us at Uranus Garden, in the centre of Bucharest and enjoy a two-day feverish celebration in September!
Over the time of a weekend, the authentic Uranus Garden will be transformed into a place of recalling to good old times, when simple pleasures were bringing people on the way of fierce jubilation!
Live Balkan music grabbing girls' hips and boys' legs, performed by the best bands, is only a part of the program!
There will be: traditional quality gastronomy, handcraft markets, exhibitions of works of art inspired by Balkan soul, award competition, parties with Balkan djs and, of course, our best ambassadors of Romanian wine.
More
The third edition of Balkan music and culture festival will take place between 13 and 15 September in the Garden Uranus in Bucharest.
Here are five bands confirmed so far, which will play in the three-day festival:
Fanfare Ciocarlia is the name of a team of 12 Roma members from the village "Ten Poles", Iasi County. They are Romania's most famous brass band, touring internationally for 17 years with more than 1700 shows worldwide.
Mitsoura it's an unique musical project that combines music with Hungarian roots Eastern Rome, resulting in an amazing blend that they call "progressive electro world beat project" the characteristic of the band's first date unmistakable voice and unique talent singer, Monika (Mitsou) Miczura, regarded as one of the best singers in the world Roma.
Taraf de Haidouks is a band of musicians who acquired Clejani international success by the appearance in 2000 in the film The Man Who Cried (dir. Sally Potter) who starred opposite Johnny Depp, Christina Ricci and Cate Blanchett.
Kal is a romani world music band from Serbia, which has attracted the interest of public holidays and everywhere the eponymous album, released in 2006, featuring a mix of Balkan music with influences of tango, Turkish influences, Jamaican and the Middle East.
Kottarashky and The Rain Dogs is an ethno-electronic music band minimalist from Bulgaria.
Tickets and subscriptions can be purchased from Network Event. Subscription price for the 3 day event is 130 lei, can be purchased on www.balkanikfestival.ro