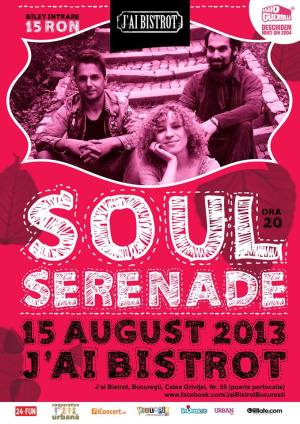 Concert

Soul Serenade - Live @ Gradina J'ai Bistrot

Thursday, August 15th, 2013 – 20:00 – Acoustic blues, soul & gospel in Bucharest
Where
J'ai Bistrot
55 Grivitei Road, Bucharest, Romania
How much
15 LEI
What
Soul Serenade, Bucharest, is a young, fresh approach to blues, soul and gospel that keeps exploring new ideas, emotions through the purest form of music.
The three musicians have made their way through every scene in every club in their hometown of Bucharest not only by presenting a new take on what blues can sound like but also by rejuvenating the local music scene.
The acoustic blues trio offer a unique blend of slide guitar, vocals, mandolin, harmonica and tambourine that will carry you from the busy streets of Chicago to the dusty roads down south.
Soul Serenade have gained national recognition and have been playing steadily for the past year in blues clubs around Romania.
In March 2013, at the third edition of the European Blues Challenge, held in Toulouse, Soul Serenade won 2nd place, this being their first exposure outside the country.
More
Soul Serenade is:
Adelina Chivu – vocals, guitar,
Andrei Rotariu – vocals, guitar, harmonica and tambourine
Codrut Andrei – vocals, mandolin

View Larger Map