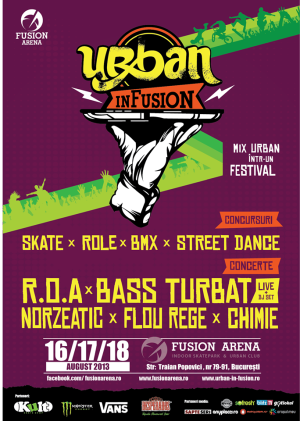 Festival

Urban inFusion Fest 2013 – Bucharest, Romania

Friday, August 16th, 2013 – 11:00 – Urban Mix into a festival!
Where
Fusion Arena
79-91 Traian Popovici St.
How much
35 LEI
What
First edition of a new Bucharest festival combining music, art and urban sports.
More
Three days of maximum intensity, with spectacular skateboarding, BMX and roller-skates contests in the best indoor skate park in the country, as well as exciting battle between Street Dance and B-boy crews…
…and three nights of super-concerts and DJ-sets! Unleashes the urban in you!
Friday, august 16, 22:00 - Dj Sets
Saturday, august 17, 23:00 - Light-up Party with R.O.A Desperados and Rabid Bass
Sunday, august 18, 22:00 - hip-hop Young Blood Party with Flou Rege, Chimie and Norzeatic.
16-17-18 august 2013, every day at 11: 00 am ... until morning!
Festival entry: Friday-15 lei/ Saturday-20 lei/ Sunday-15 lei or 35 lei subscription for all three days.
Free entrance at parties!
FUSION ARENA indoor skatepark & urban club
79-91 Traian Popovici St., Bucharest